Search
50 result(s) matching "", (0.01 seconds)
Canadian Politics
Awkward.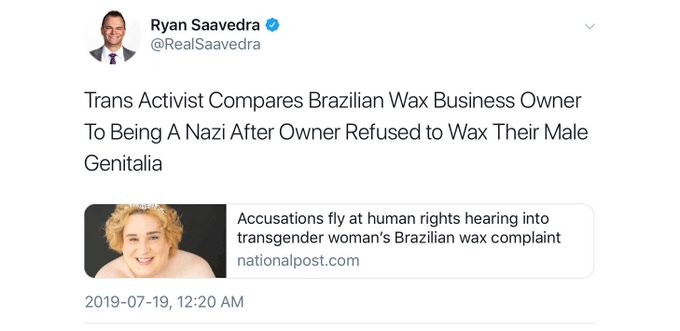 [...Business owner Marcia Da Silva said she was not comfortable carrying out a Brazilian wax on a person with male genitalia, nor did she have the training for it. Jay Cameron, Da Silva's lawyer and litigation manager with the Alberta-based Justice Centre for Constitutional Freedoms, told the hearing that a ruling against his client would be tantamount to ordering "intimate services" against someone's will. [...]
https://nationalpost.com/news/canada/accusations-fly-at-human-rights-hearing-into-transgender-womans-brazilian-wax-complaint#click=https://t.co/DzeELdfSbY
TRC: Pumas v All Blacks
@Frank said in TRC: Pumas v All Blacks:
Reece is bloody lucky.

no utility value
not particularly good defense
good fortune of being on the end of a dominant team's backline at Super level
outside the AB center at Super rugby level
He's fast though. Which means I can shout at the TV "Go, Reece lightnin"
US Politics
@JC said in US Politics:
I'm no Trump fan, but this put down is priceless "They're the reason there are directions on a shampoo bottle"

https://mobile.twitter.com/realDonaldTrump/status/1151451067437191168
Give it time.
You will be.
Club Rugby NZ 2019 (Not BOP, Magpie, Northland)
Teams for the Waikato club final. Hautapu is undefeated this season.
Chiefs 2019
"We then caught up Chiefs legends Tanerau Latimer & Jarred Hoeata "
CWC Final - Black Caps v England
@dogmeat Abdul Aziz will win NZer of the Year. Throwing an eftpos machine at a terrorist is far more impressive than deflecting a ball with your cricket bat. Actually throwing an eftpos machine at anything is more impressive full stop.
NRL 2019
@kiwiinmelb said in NRL 2019:
every week the game they play in , is probably the game of the round that less people give a fuck about,

bit of a difficult one for the AFL,

but the Brisbane Bears were a bit like that in the beginning
Ironically the Brisbane Bears were originally playing precisely where the Suns play now in Carrara on the GC. It wasn't until they actually started playing in Brisbane (and started winning a few games of course) that they took off.
CWC Final - Black Caps v England
@Mokey a quick google (again didn't even read the links) suggests that his wife has contracted cancer and he quit his job to be her caregiver.
Now while this is laudable and the situation must be tragic for those directly concerned, I don't think it is NZer of the year worthy any more than a nifty paso doble is.
Hawkes Bay Schoolboy Rugby
Napier Boys will host Feilding HS, this Sunday, 21 July 2019.
Games
1.00pm: 1st XV (#1)
1.00pm: 2nd XV (#2)
11.30am: U15 (#1)
11.30am: U14 (#2)
CWC Final - Black Caps v England
@dogmeat Did he win a broadcasting award this year? Other than that I have no idea. Don't listen to radio other than Radiosport, certainly not djs or morning crews or whatever the fark they are.